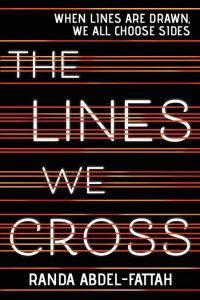 I have to say that I could not think of a more timely book than The Lines We Cross by Randa Abdel-Fattah.
Set in Australia, Abdel-Fattah looks at the impact that the political opinions of adults have on the lives of teens. The narrative alternates between Michael and Mina, schoolmates at a prestigious high school. Any relationship between them is stressed due to the opinions of Michael's family, who lead an organization that protests refugees and queue jumpers that come into Australia and "put strain on the system" and, as it happens, Mina, from Afghanistan, falls into the first category.
As the novel unfolds, the reader is introduced to the stresses and strains of two adolescents being exposed to a broader argument as they come in contact with a world that demands that they see multiple points of view. Abdel-Fattah illustrates the buildingsroman truthfully and allows the reader to feel sympathy for the characters as they struggle against an obstacle that is at once invisible and ugly. At the core is the question of how we respect others when their views so diametrically oppose our own; or even if they deserve our respect. Layered on top of this are the struggles of life that teens go through on a daily basis, social ties, homework, activities and family.
The Lines We Cross introduces the reader to the people who use the rhetoric that we are hearing more often to justify political opinions that would previously been questionable not too long ago. With the rise of nationalistic views being expressed increasingly in the mainstream media, Randa Abdel-Fattah provides a voice to the young people stuck in the middle of divisive ideologies. She provides a twist to the traditional coming-of-age and boy-meets-girls stories that are often found in the Young Adult sections and suggests that getting to know yourself also involves actively investigating the world around you by searching for ways to align yourself with a set of political beliefs, not just falling in to the opinions of others because they are convenient.